Hi friends,
Quick status update:
Grids!
I mentioned in the last update that I was working on an article about our thought process for grids in Subform. It ended up being pretty long, so I broke it into two parts:
The first part, "Are grid systems still relevant in digital product design?", covers a brief history of grids and how their print-legacy doesn't always translate well to interface design:

The second part, "Better grid systems in UI design tools", looks more specifically at how Subform makes it easier to work with grid systems:

Kevin and I spent much of the last two weeks fleshing out a lot of this grid layout functionality. So the exciting news is that all of the demos in the second part were made using our latest internal build of Subform. Like this one: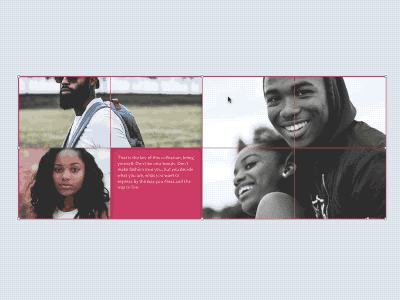 As always, we'd love to hear your feedback on these ideas.
HUD
In addition to some clean-up work on the grid functionality, Kevin and I are focusing on the app's HUD (heads-up display) this week.
The layout engine's shaping up really nicely, but we've found that it's really helpful to have some contextual information about layout on the artboard. So, think of the HUD as "smart guides on steroids." (The grid scaffold overlays from the demos are an example of some of this HUD functionality)
Thanks for reading!
Ryan + Kevin