When you add a box to a parent, the parent gets a new "Children Layout" panel.
The Children Layout panel lets you set a couple of default settings that the children will take on.
There are "quick alignment" options for making all children:
horizontal alignment:

align left, align right, align center,

vertical alignment:

align top, align middle, align bottom, evenly-spaced, align end-to-end with the center empty
But there is no one-click button for "make everything zero". Which is really what I want to do a lot of the time. Such as when I want zero padding and alignment, just to use the parent as a container for sub-components that fill up the space.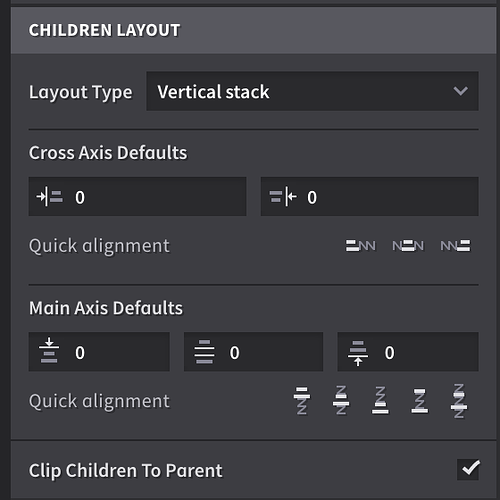 All of those fields that are "0" in the image above default to 1s (except the one on the bottom center) . I noticed that every time I add children to a box, I'm repetitively clicking on 4 different fields and filling them with "0". I feel as though I do it so often, that it should merit a "make everything zero" Quick alignment button to go along with the other "Quick alignment" buttons. (unless I have missed the button)
I do it at least as repetitively enough as to drive me to make this post, but I don't know if it's something other beta testers would like. So I'm wondering if the button would be beneficial to other testers? Do you think this is something needed?

I'd tap that
I would not have relations with that button